Posthaste: 3.4 million Canadians will renew their mortgages by 2025 — and they're worried
Royal LePage survey finds many looking at a variety of cost-cutting tactics
Published Oct 26, 2023
Many Canadian households will be grappling with higher payments as their mortgages come up for renewal.
The days of "rock-bottom rates" are over and mortgage borrowers will have to adjust to the new reality.
That's the message from real estate brokerage Royal LePage, which released a poll Oct. 26 showing elevated homeowner anxiety about the coming wave of mortgage renewals. Over the next 18 months, the firm estimates that 3.4 million Canadians will renegotiate their mortgages — almost all at a higher interest rate. The poll, conducted from Sept. 8 to 14, found nearly three quarters of them are worried about the looming transaction.
People are contemplating a series of financial changes to manage the anticipated extra drain on their finances, including looking for a new lender and lengthening amortization periods. Many also said they are contemplating day-to-day cost-cutting measures to cope with lending rates that are now at 21-year highs.
"While the central bank's key lending rate is expected to come down in the medium term, the likelihood that we will return to rock-bottom rates of less than one per cent is very low. Upon renewal, fixed-rate mortgage holders will be faced with a new reality — higher monthly payments," said Karen Yolevski, chief operating officer of Royal LePage Real Estate Services Ltd., in a press release.
Among the tactics people are weighing to ease the burden of their mortgage payments, 24 per cent said they have considered extending their mortgage's amortization period, 23 per cent said they are thinking about switching lenders to get a better rate, almost 20 per cent said they have mulled extending their mortgage term and 17 per cent said they have contemplated selling their home and downsizing.
Yolevski warned that going to a new lender could backfire as homeowners will have to qualify for the stress test — 5.25 per cent or the lending rate plus two per cent.
Canadians are cautious when it comes to their mortgages. For example, 74 per cent of homeowners have a fixed-rate mortgage versus 20 per cent for a variable rate. Further, 49 per cent have a five-year mortgage term and 39 per cent have a 25-year amortization.
Still, that won't protect them from the higher cost of borrowing.
"Many Canadians today are facing a mortgage renewal at a significantly higher rate than they're used to, and this will continue to be the case in the coming years as more loans mature," Yolevski said.
Variable-mortgage rate borrowers were first in line to experience the pain of higher rates with 42 per cent saying they "put a major financial strain on their household."
Some homeowners reported their mortgage payments doubled or tripled as interest rates rose at an unprecedented pace as the Bank of Canada struggled to cool inflation. Royal LePage estimates that 20 per cent of the people it surveyed have a variable-rate mortgage.
Of those who have a variable-rate or hybrid mortgage, 64 per cent say that higher interest rates have caused their mortgage payment to hit its trigger rate — when the mortgage payment no longer covers the interest portion — causing their monthly payments to increase.
To cope with this budget shock, just over half of those carrying variable-rate mortgages said they have cut back on going out and travel, while just under half, or 47 per cent, said they are saving less. People also cut back on essential spending on groceries, gas and utilities and 40 per cent have tapped savings.
The 74 per cent of homeowners with a fixed mortgage rate, "have been protected from those increases, at least for a short time," Yolevski said.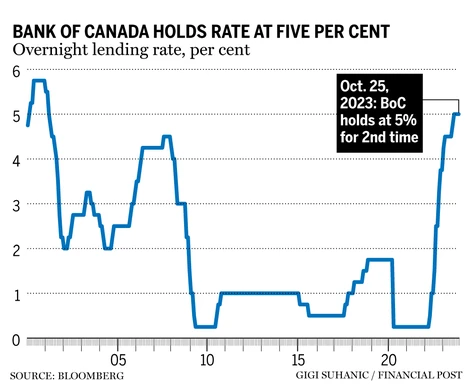 The Bank of Canada held the overnight interest rate at five per cent on Oct. 25, continuing its policy of quantitative tightening while recognizing that global bond yields are also working to tamp down demand.
"The global economy is slowing and growth is forecast to moderate further as past increases in policy rates and the recent surge in global bond yields weigh on demand," the central bank said in a statement. "In Canada, there is growing evidence that past interest rate increases are dampening economic activity and relieving price pressures."
Sourced from https://financialpost.com/news/3-4-million-canadians-renew-mortgages-2025